In times of social distancing how can a subject like Drama survive? In an online world how can Drama not just survive, but thrive? Our Head of Creative Arts, Holly Sullivan reflects on these questions in this week's blog.
The impact of the global pandemic on education has of course been unprecedented in its scope and exceptionally challenging in the issues it has produced. But like many industries, we in education have discovered some amazing new skills, resources and of course technology which can actually enhance and improve the provision we offer out students in years to come.

Here at Alice Smith we are currently in our second extended period of school closure and whilst all academic areas have been impacted, there is no doubt that those subjects which have a high practical or vocational element to them have had the biggest mountain to climb with a switch to online learning.
As a Drama teacher I certainly miss working with my students in the Drama studio and of course the unmatched thrill of preparing for a live performance. Drama is such a highly collaborative subject, thriving on the interaction between performers and from the energy of the audience. However individual skills are also important and these are of course the areas that we have focused on more when working online.
The monologue slowly became the central practical focus of our online curriculum and clearly those of every other school as our WhatsApp groups and Facebook streams were deluged with requests for the best modern monologues for men or the best Shakespearean speeches for women. The students too so became fascinated by the subject, bringing in their own suggestions, alongside producing some excellent original material of their own.
We began to produce an array of brilliant work, but the only problem...we had no audience! We had an abundance of funny, moving, thought-provoking student work, but no platform to share it with people.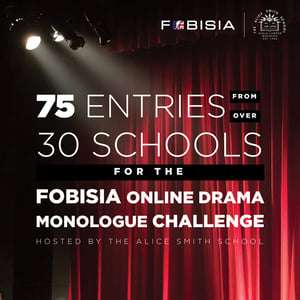 And then came the FOBISIA Monologue Challenge. What started originally as an idea that could work with just a handful of schools had soon exploded into 75 monologue performances submitted from nearly 30 schools - from Dover Court Singapore to Discovery Bay Hong Kong. From British School Manila to British School Kathmandu. From Alice Smith, King Henry 8th, BSKL, Nexus, elc, Help, ISP and Sri KDU - all from here in KL. We even drew in entries from outside of Asia, with Edron Academy joining us from Mexico City.
We wanted this to be a real competition so we sought to bring on board a judge from the theatre industry. It was a very easy decision about who to ask to take on the mantle of 'judge' for the event. To my mind, there is only one theatre practitioner working today who so wholly understands and champions young people and believes so passionately in their ability to change the world with the theatre that they make. And that person is close-friend of Alice Smith School, Kerry Frampton, Artistic Director of Splendid Productions, a UK-based, internationally touring theatre company, renowned for their challenging and vibrant theatre for young people.
Students from all over the FOBISIA community created solo performances in four categories:
11-14 Modern Text
11-14 Classical Text
15-18 Modern Text
15-18 Classical Text
Each performance submitted to the Challenge was celebrated at the virtual Awards Ceremony in November. As well as watching snippets of the monologues, the audience was also treated to hearing Kerry's highly personalised feedback to the performers. One teacher remarked 'Our students were thrilled to have their names spoken by and their work acknowledged by Kerry - what an achievement for a young performer.' The standard of the performance was remarkable and the monologue choices varied and challenging. The future of the industry is in safe hands with these brilliant young theatre-makers coming through.

Alice Smith's own entries were highly commended. Nina in Year 9 was recognised for her clarity, precision and commitment. Kerry highlighted how Viraj in Year 8 had made a brave choice with his monologue and delivered it beautifully. Our entries in the older categories were also praised; Princess in Year 11 delivered a 'powerful performance with moments of vocal excellence' whilst Lauren in Year 10 was commended for natural comic performance skills. Ms Watkinson and I are incredibly proud of their work.
Finally, I offer my sincere thanks to all the FOBISIA Drama teachers - the backbone of any school - who have faced the massive challenge of re-writing their whole curriculums to function online, who have had to reinvent their kinesthetic, group work subject in times of physical distancing, who are finding creative solutions to rehearsing with masks and 2 metre rules, and who, despite these considerable dramas, supported their students in participating in the Monologue Challenge.
The show, after all, must go on.