At Alice Smith, it is our honour and responsibility to do everything we can to prepare our students for their futures.

In addition to providing a world-class British education, we look at any learning opportunities we can provide in order to ensure our students grow into well-rounded, educated adults who are ready for any challenge presented to them.
This is why we incorporate Pastoral Care into our curriculum. It's also why we launched ACHIEVE, an innovative programme with topics informed by the Personal Social Health Education (PSHE) Association in the UK. This programme incorporates key values into learning opportunities that our students will remember for years to come.
Before we explore exactly what Pastoral Care looks like in our Secondary School, it's important to understand how this type of learning benefits your children.
How Can My Children Benefit From Pastoral Care?
In an educational setting, Pastoral Care is when a school plays an active role in the development of key skills in your children including in their personal, emotional, spiritual and social needs.
According to Gavin Lazaro, our VP of Students, both students and staff benefit from our Secondary Pastoral Care initiatives, and it is this collaboration that has led to the success of our students.
"Pastoral care is fundamental to our school; happy, healthy, balanced students make great learners who are far more likely to thrive in life, and every adult in our school has a role to play in that pastoral care," said Lazaro.
To learn about our award-winning Primary School Leadership Initiative and Playtime revitalization programmes, click here.
Numerous studies have proven the benefits of Pastoral Care in an educational setting, which can include the development of healthy stress-relieving skills and study habits, higher test scores and more. Benefits such as these are why we invest so much time and energy into designing effective initiatives; our students come first, and we play one of the most important roles in helping them achieve their goals.
"I believe our pastoral system at Alice Smith is outstanding in terms of its support, and the care, and the generosity of time every staff member gives to their students," said David Morris, an Alice Smith Biology and Science Teacher.
Pastoral Cares Helps Students ACHIEVE Greatness
In our innovative initiative, ACHIEVE, each letter represents an aspect of our programme.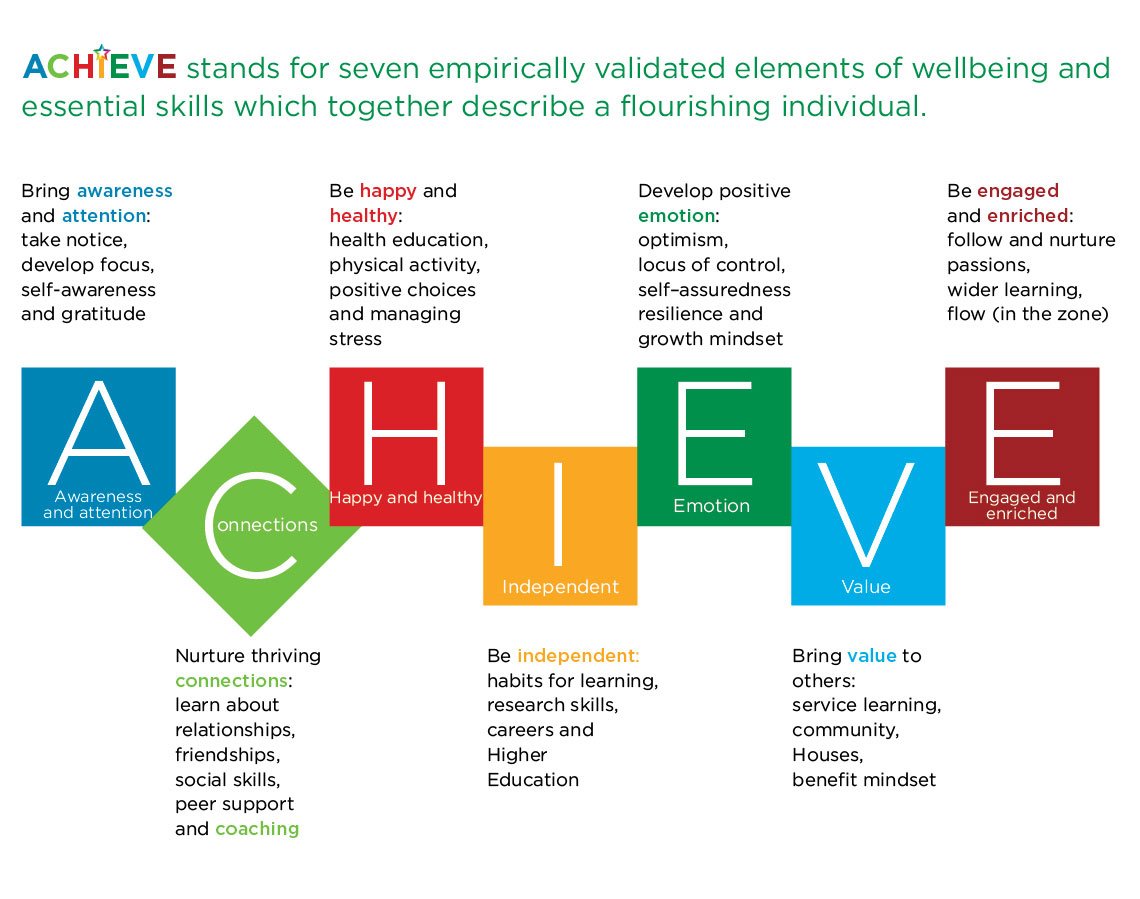 At Alice Smith, we believe incorporating these principles into our curriculum, with the help of our support staff and teachers, will help your children be better prepared to face any challenges ahead in their future.
The Breakdown of our ACHIEVE Programme
We implemented a number of changes to our Secondary curriculum in order to accommodate Pastoral Care initiatives. We have divided our Pastoral Care responsibilities into three main groups:
Tutors
Key Stage Leaders and Assistants
Teaching Staff
Tutors play an essential role in the ACHIEVE programme, as students in our Secondary programme have busy schedules and can have as many as 10 different teachers in a given school year.
In order to provide them with a consistent source of support at the start of their school day, every student is placed in a tutor group led by a trained staff member, assisted by a co-tutor.
This tutor is responsible for taking attendance, providing the day's notices and is then free to spend the remaining time finding out about the lives of their tutees. This could include questions about how their current art piece is coming along, what happened at their latest sporting event, what books they are currently reading or anything else.
By doing so, our students will develop a bond with their tutor, and during the weekly one-on-one sessions, our students have a safe place to voice any concerns they may have, from interpersonal issues to concerns over classwork. We find these sessions to be incredibly successful, with many of our students actively requesting them.
Tutors are then assisted by an Assistant Key Stage Leader (AKSL) who, on a case-by-case basis, implements support strategies for students and tracks their achievements to ensure the success of the programme. Key Stage Leaders (KSL) are available to support AKSLs and are mainly responsible for overseeing Key Stage 3, Key Stage 4 and Sixth Form.
AKSL's are also responsible for planning annual trips within and beyond Malaysia. These adventures are often a highlight of our students' time at Alice Smith and can lead to lasting memories of our school.
Finally, teachers play a pivotal role in imparting our Pastoral Care initiatives directly into the daily curriculum.
Thanks to our smaller class sizes, with a 10:1 student to teacher ratio, our educators are able to carefully monitor how each individual student is progressing, and with the help of regular parent meetings, they are then able to provide impactful information to help guide your children to success.
Giving Back to the Community Through Service Learning
We value the unique responsibility we have in shaping your children into becoming well-rounded, respectful and intelligent adults.
Through service learning, we provide our students with opportunities to build relationships with those outside of our direct school community and give back to them in a number of positive ways.
According to International Service Learning, an organisation dedicated to planning volunteer service learning experiences for young people all over the world, serving those in need helps students develop into more effective and empathetic leaders in the global community.
This is why we provide numerous opportunities for our students to provide aid to our community, from raising money or volunteering for local orphanages, schools, environmental groups and even the United Nations High Commission for Refugees (UNHCR).
"Students graduating from our school often cite these activities as having a significant impact," said Lazaro.
By choosing a school that values the whole well being of your children, you are providing them with the tools they need to succeed in our interconnected world.
It is increasingly important to prioritise these emotional and social traits, and we are proud to be the ones to guide your children through their education.
Our commitment to embedding Pastoral Care into our curriculum is just one of the ways your children will develop into successful adults, it's also through our rigorous academics. Click the button below to learn more about the examinations our students take and how they score compared to others worldwide.