Zhongyi Ho, Year 11, tells us about two essays he wrote recently which earned him awards...
"Innovacia Sdn. Bhd. is a company that provides affordable technical products and services for professional and educational use - one of which is TiffinBIM, a Malaysian CAD/BIM software that architects and civil engineers use. Recently they ran an essay competition: the TiffinBIM Construction Technology Essay Competition 2020.
I have always had a deep interest in engineering and I'm looking forward to studying chemical engineering at university to develop renewable energy in the future and propelling the world to a more sustainable place. Here is the theme and title of my essay:
Theme of the essay: "More usage of technologies would help the Malaysian construction industry players to quickly recover from the COVID-19 pandemic"
My essay title: "How Will We Discover our Potential?"

The title of my essay was inspired by the book "How Will You Measure Your Life?" by Clayton M. Christensen, which I found insightful and as it challenged my status quo. The main objective of my essay is to discuss different technologies/techniques construction companies could employ, such as AI (artificial intelligence, LiDAR (Light Detection and Ranging), and Additive Manufacturing.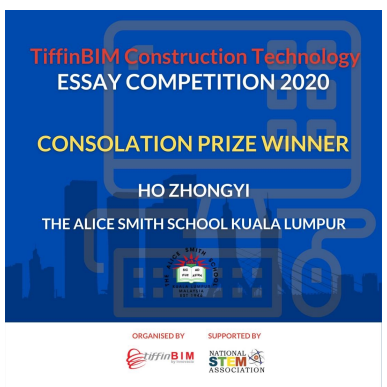 I was fortunate enough to be awarded a consolation prize and I am extremely grateful for this opportunity for my voice to be heard and recognised. I also received an internship opportunity at the National STEM Association (NSA) Industry Partners. I am looking forward to this opportunity as it means it can widen my horizon to get me prepared for what engineering will look like at university and in my future career.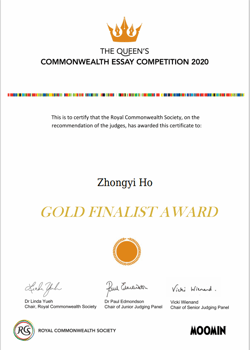 Last year, I also received a Gold Finalist Award in the Queen's Commonwealth Essay Competition 2020; the essay competition 2020 was hosted by the Royal Commonwealth Society. Here is the theme and title of my essay:
Theme of the essay: "There is no Planet B: How will Climate Change affect you and your community?"
My essay title: "The Change Is Real"
The competition welcomed over 13,000 entries from people across the Commonwealth, and I was fortunate enough to be awarded Gold Award Finalist - placing in the top 0.8% in the competition. To me, climate change evokes pathos whenever I see its effects on our natural environment, and I believe climate change is a macrocosm of a healthy person and a sick person - "the healthy person has a thousand wishes, a sick person only has one."
I am looking forward to participating in more essay competitions and hope to inspire others in our community to reach for the stars!
Congratulations to Zhongyi Ho for these magnificent achievements!
If you've had success in a competition inside or outside of school we'd love to hear from you too! Email us with the details and a photo so we can feature you on the #KLASSBlog!