In this post Dan, our Primary Counsellor, asks us to reflect on two questions; Do I live fully? Am I loving well?
"Did I live fully?" and, more than anything else, "Did I love well?" - Jack Kornfield
The Buddhist teacher, writer and psychologist, Jack Kornfield, one of the modern pioneers in integrating mindfulness and Insight meditation into Western consciousness, speaks here concerning the pressing questions of those dying with awareness. In my experience of sitting with those approaching an imminent death or those recently affected by the passing of a loved one, it is profound but simple questions like these that suddenly cut through the fog of our everyday lives.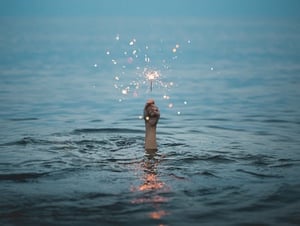 So much of the conscious movement towards a grounded awareness and the spiritual life, involves developing the sensitivity required in how to understand fulfilment. For many, what prevents a mature and developed understanding of the potential in our lives, is the negative and self-critical narratives that make up a significant portion of our inner lives. The belief that we inherently lack something, when facing life's difficulties, is often based on an underlying assumption that there is something we haven't become or something we have not yet attained. Indeed, attainment can play a pervasive and sometimes destructive role in our lives. One cannot deny that much of the modern materialistic world judges personal worth based upon attainment, position and acquisitions - perhaps it has always been so - but a developed spiritual life appeals to the deeper rivers in us in which these questions naturally flow.
And yet the anxious pursuit of attainment is not limited to the material world; The spiritual life is also fraught with often hidden or implicit motivations driven by the spirit of attainment; Many spiritual seekers are attracted to a future enlightenment, the supposed calm (it is anything but usually) of meditation, or a perfected or more saintly self.
I am reminded of the intimate psychological suffering of a terminally ill client some years ago, when he was spontaneously confronted with very similar questions of himself. A successful businessman and married father of four, his security of mind had melded itself to the undeniable and quite brilliant series of professional and personal attainments of his life story, including an impressive spiritual CV. And yet, perhaps his greatest 'attainment' in the short time I came to know something of him, was in his painful and fearless acknowledgement of a live not fully lived in its emotional entirety, of a shyer fulfilment he'd denied himself in the pursuit of quieting a deeply held and painful belief about his defective 'true self'. Once acknowledged to himself, he was then able to identify precious moments and memories as a young man of living fully and loving well, and his death held a rare fullness of spirit, honesty, and ultimately love.
Do not wait until life decides for you and ask gently of yourself today; Do I live fully? Am I loving well?
-----
The thought for the day is a short reflective writing relevant to the art of suffering well (enough) in difficult times, for parents and staff of Alice Smith. If it offers comfort amidst adversity, read the text and call it to mind when needed (even if just a short phrase from the larger text), allowing it to soak into the marrow of your bones and merge with your breath. Remember, we are all in this together…
Take good care, Dan
Author: Dan Lawrence, Primary Counsellor, The Alice Smith School