During Production Week - the week in a school's life when the final touches of an eight month labour of love come together and a theatre piece is presented to its audience - the most commonly uttered phrase is not 'break a leg'. Nor is it 'I've got stage fright!'. It's not even 'Miss, I can't find my costume!'. Although these are frequently heard in and around the Drama department, the hotly debated topic is…. 'Miss, what is the next production?' So beloved is the experience of being part of the school show, before the curtain has come down on one show, our students are excited for the next.
So what is it about the school show that has such an impact on our community?
As a school with a clear set of values, these might be the first place to start to demystify the draw of being involved in a production.
With the first uttering of the word 'production' a buzzing conversation strengthens connections across the school as the prospect of performing, teaching or watching the show becomes a hot topic. Staff and students alike in their passion for the production connect by supporting one another's strengths and building a wonderful sense of belonging. Students are able to socialise beyond their usual friendship groups and our older students mentor the younger, leading to long-lasting friendships and an appreciation for one another.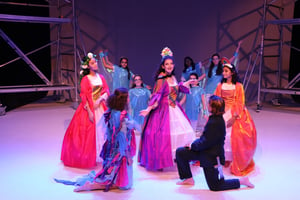 Respect and kindness are key values that all production members hold to the highest degree. These are instilled from the first step into an audition with having respect and kindness towards a fellow auditionee; to when our young people hold confidence in knowing their worth when performing in front of an audience. Performing is a demonstration of vulnerability and therefore a respectful, kind, close-knitted company of theatre-makers is key to a production's success.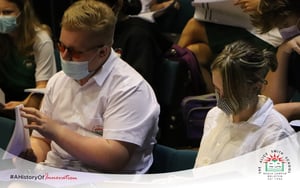 Integrity is found in the responsibility held by a student to perform their role with conviction and commitment to have the courage to both be themselves and take on the role of another with empathy and sensitivity. A production is a rollercoaster experience, filled with emotional highs, nerves and excitement, of risk-taking and a feeling of vulnerability to present creative and personal work to an audience. The liveness of a performance means mistakes and successes are ripe to learn from. There is no second take or post-production edit in theatre.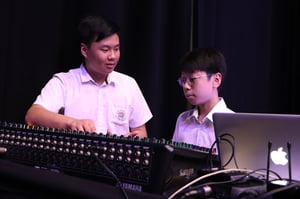 Directors, performers, designers, stage managers, technicians and backstage team all strive for excellence in an environment that allows room to fail. We do this with the knowledge that our resilient company will work together to mask errors, improvise through forgotten lines and be each other's biggest cheerleader as the curtain falls. A Year 10 student comments 'Although it was very nerve wracking I managed to audition for the production last year and this gave me more confidence and further inspired me to take GCSE Drama'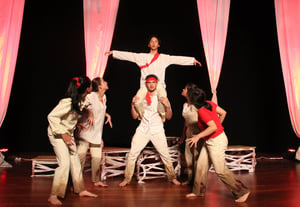 When the production is complete we unwaveringly see increased confidence in our students' ability to collaborate, work independently, take on leadership roles, articulate themselves with conviction and come up with creative responses to challenge. 'I would truly say that Drama grew my confidence to have the skills to talk to new people, to raise my hand in class and present in front of people' says a current Year 11 student.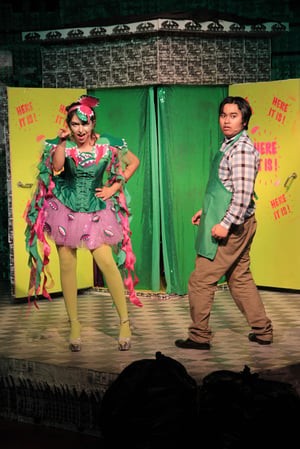 Our past EP Productions Bugsy Malone, Beauty and the Beast, Little Shop of Horrors and Double Bill: The Tempest and Macbeth hold so many memories, experiences and connections for the Alice Smith community that have contributed to the vibrant fabric of the school history.
Our production of Annie comes at a time when more than ever a sense of connectedness holds high value to our community. With staff and students spending months away being physically present at school, the production is the perfect vehicle for the whole school to feel interconnected with a sense of 'togetherness.'
Theatres and performance venues across the world are opening their doors once again and likewise we are hopeful that come February 2021 our Performing Arts Hall doors can be swung wide open to welcome a live audience.
Our own EAL Support Teacher Ms Badrika Bahadur and alumnus Badrish Bahadur were integral to the first production to be staged in Malaysia after lockdown. The Malaysian-British theatre company Liver & Lung, re-staged their sold-out Malaysian classic Sepet to a physically distanced audience. Badrika beautifully played the key role of 'Orked', whilst Badrish supported the heart-felt musical composition.
Badrika shares her thoughts about the experience:
"Being the first production to open in Malaysia after the lockdown, we were slightly concerned with the SOPs, quite overwhelmed by varying responses yet truly honoured to be able to share the beauty of Sepet once again. After each performance, we embraced emotions and reactions of the audience members which reinforced three things for us: the importance of keeping the Arts alive; the positivity and energy which theatre instills in us, especially after difficult times; and finally, the connections we build and strengthen through this very medium."
Badrika's words on 'the importance of keeping the Arts alive' have been a heightened global conversation over the course of the pandemic and its impact on the cultural sector. A production may be the starting point for many of our young people where they learn the power and beauty of the Arts, becoming life-long lovers of theatre, some may be instrumental to the future of the Arts through their career or in cultural pursuits as adults of the future. Therefore, as a school we value productions and we are passionately pursuing the opportunity for students at Alice Smith to continue to experience this despite the odds.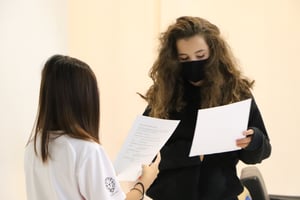 This brings us to the recent Annie auditions where students from across the school gathered the courage to put themselves forward for our 2021 production. With creativity and zest they recorded an online monologue and a solo sung performance for the first stage of the audition. Next, they were invited to live recall auditions to show their skills in a rehearsal environment where they showed passion for performance and understanding of how to stage a text. Finally, reflecting on the many auditionees and the tremendous skill shown we compiled our Annie Cast List and ran our first rehearsal with our lead roles for this term with our ensemble joining us in January.
After many months of concern over the future of the Arts, to see the bubbling and bustling, whilst physically-distanced, PA Hall filled with students rehearsing was incredibly heart-warming and inspiring. The Arts has an exciting future ahead if our company of actors and designers are anything to go by.
We cannot wait to share Annie with you all soon.