We're getting used to a lot of new ways of doing things at school and one that now needs a weekly reminder is to order your school meals before midnight on Sunday.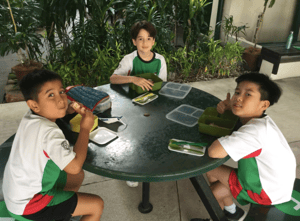 Working within the guidance and SOPs from the Ministry of Health, our provider "Delischool" has developed a 'bento' box style meal with two delicious meal options to choose from everyday all in a recyclable container!
For our Primary school children we offer a mid morning snack and a hot lunch with fruit. Next week they will have options including Steak, baked potato and corn-on-the-cob, Macaroni cheese and salad or Ginger beef with kuey teow and vegetables.
For our Secondary students they have the option of a hot breakfast with a choice of either Nasi lemak or a vegetarian option, which on Wednesdays sees the return of our ever popular Roti canai and dhal. With lunchtime meal choices including Beef shepherds pie and mixed salad, Pasta primavera with garlic bread or Nyonya fish curry, peas, mushroom and rice.
At a time when there is growing recognition of the need to promote the importance of nutrition and healthier eating amongst young people, we are constantly striving to find new ways to ensure that we are playing our part in building tomorrow's healthy people. Research shows that "When children don't eat a healthy lunch, it's harder for them to concentrate at school and to muster the energy for after school activities." A healthy nutritious lunch can contribute to your child's academic performance.
So don't forget to set that reminder and order your meals every week on KLASS Ops!