Did you know that...Our Earth loses 18.7 million acres of forest every year, which is equal to 27 soccer fields every minute? And that only 9% of the 9 billion tonnes of plastic the world has ever produced has been recycled?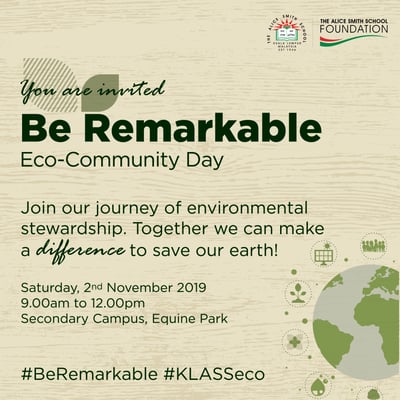 This November through our Foundation, The Alice Smith School is embarking on a journey of environmental stewardship. Working alongside the community and eco-partners, sustainability initiatives are our focus this November Giving month.

Help us to begin this important journey on Saturday, 2nd November at our Eco-Community Day. We would love to have you, your family and friends join us for this special event at our Secondary Campus, Equine Park between 9am and 12pm. There will be plenty to do including talks, exhibitions, workshops, fun family activities, family yoga - and even a green party! #Jointhemovement
Our talks and workshops will help you understand more about the impact of waste and how to make a sustainable change with information on fabric recycling, re-purposing household items and making your own compost. Register for the day here and follow our twitter feed for the latest updates @KLASS_Eco.
The Green Generation Talk
At 9:45am we'll be introducing you to the people whose lifelong purpose is to make a mark in creating a sustainable earth for our generation. Hear from the Founder and Advocate of #sayno2plastc and #zerofoodwaste, YAM Tengku Datin Paduka Setia Zatashah binti Sultan Sharafuddin Idris Shah, Baida Hercus, President of the Free Tree Society, Najah Onn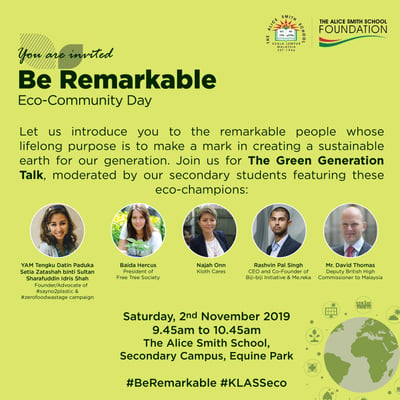 from Kloth Cares and Rashvin PAl Singh, CEO and Co-Founder of Biji-Biji initiative & Me.reka. They will be joined by Mr. David Thomas, the Deputy British High Commissioner to Malaysia and the session will be moderated by students from our secondary school.
After the talk and throughout the morning there will be family activities, such as yoga, information on The Green Thumb Project and a range of sustain-ably produced food.
So bring your picnic mats and re-usable plates, cutlery and bottles and join us at the start of our journey of environmental stewardship. Together we can make a difference to save our earth.