Launched on the 1st November 2018, The Alice Smith School Foundation kickstart its activities with an inaugural November Giving Campaign. The community generously donated to the Foundation Giving Tree by purchasing the Gold, Silver and Bronze Metal Stars. The campaign has raised RM 172,000 with 53 stars purchased by the inaugural donors with most stars placed at the Secondary Campus. The scholarships and bursaries received the highest funds. The inaugural donors have made a difference!
Following the successful launch of our Foundation, working alongside with our Enrichment Team and the secondary students, the Foundation Charity Dinner was held on 22nd February 2019 at Concorde Hotel Kuala Lumpur.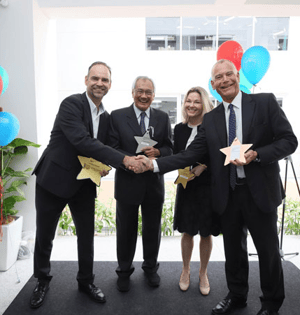 For a long while now, our secondary students have hosted our annual Alice Smith School Charity Dinner, repeatedly praised as one of the highlights of the school year. Funds raised are used through service work to renovate underfunded schools, for community development and resource acquisition, as well as a range of wildlife and environmental conservation projects. From building dormitories and classrooms for primary school children in Chiang Mai and Krabi, to a recycling centre to protect the environment through sustainable waste management in Tioman and a coral conservation project in Lombok, they have been actively engaged in service projects to help others. The Charity Dinner aims to raise awareness of, and money for, our community service projects, both locally and internationally.
This is an event organised and run entirely by volunteer students, staff and parents. Our students wait on tables, serving a three-course dinner to guests. During the dinner, guests were entertained by wonderful student performances, from stand-up comedy to classical music. Some of the great items that were auctioned included five lovely painted collaborative portraits of Superheroes by our Year 6 students, referenced from the work of artist Chuck Close; a large Dome art piece by Tony Proves; and an unforgettable dining experience with Danielle Peita Graham and Chef Carl Moore.
All funds raised from ticket sales, raffle and auction went to support community service projects and charities supported by our secondary students during their Trips Week. Chair of the Foundation, YABhg Tun Zaki bin Tun Azmi and Board Member, YAM Tengku Datin Paduka Setia Zatashah binti Sultan Sharafuddin Idris Shah attended the dinner this year, along with the British Deputy High Commissioner David Thomas who is also a school governor, parents, alumni, partners and friends of the school.